GBPUSD
Buy Limit 1.27054
Stop Loss 1.26342
Take Profit 1.29232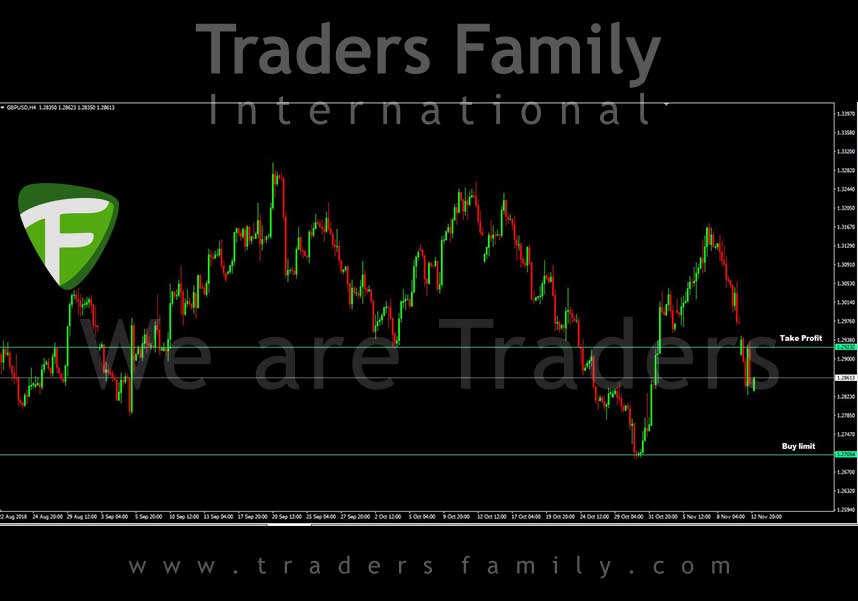 (Klik gambar untuk memperbesar)
---
Disclaimer
These pages contain information about the services and products of Traders Family. The material is provided for information only and no information contained herein constitutes a solicitation for the purpose of purchase or sale of any commodity, security or investment, nor should it serve as the basis for any investment decision.
Traders Family does not guarantee the accuracy or completeness of any information or analysis supplied. Traders Family shall not be liable to any customer or third person for the accuracy of the information or any market quotations supplied through this service to a customer, nor for any delays, inaccuracies, errors, interruptions or omissions in the furnishing thereof, for any direct or consequential damages arising from or occasioned by said delays, inaccuracies, errors, interruptions or omissions, or for any discontinuance of the service. Traders Family accepts no responsibility or liability for the contents of any other site, whether linked to this site or not, or any consequences from your acting upon the contents of another site.
Foreign exchange trading and investment in derivatives can be very speculative and may result in losses as well as profits. Foreign exchange and derivatives trading is not suitable for many members of the public and only risk capital should be applied. The website does not take into account special investment goals, the financial situation or specific requirements of individual users. You should carefully consider your financial situation and consult your financial advisors as to the suitability to your situation prior to making any investment or entering into any transactions.
Traders Family website can be accessed worldwide. However, it may be the case that the securities or financial instruments described are not legally permitted for all investor groups in all areas of jurisdiction or that access to such websites may be subject to legal restrictions. Users to whom such legal enjoinders apply are not allowed access to this website.
Opening this website shall not render the user a customer of Traders Family nor shall Traders Family owe such users any duties or responsibilities as a result thereof.
On the website, other companies may advertise their services through links or banners. Traders family does not accept any responsibility or liability for the services offered by any other website or company you may visit as a result of such links or banners. If you decide to act on any such information or offers, you do so entirely at your own risk.
Various parts of this website are available in multiple languages. This is the English version and Traders Family shall not be responsible for any erroneous, inadequate, or misleading translations from the original version.