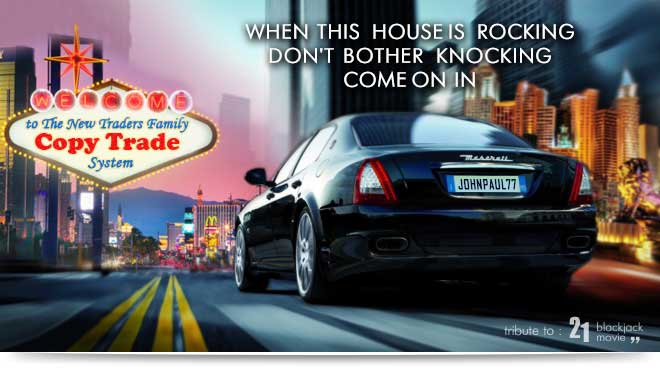 You should feel the thrill of winning more money than You can possibly imagine ~ Jill Taylor a.k.a Sierra Sommers – 21 Blackjack Movie.
Now the thrill is here. Traders Family proudly launch our New Copy Trade System!
Trading for a living is not a myth anymore, not for us. We've been doing this for years. It could happen to you now, even more than just for a living. You may start writing your shopping list, planning your holiday destination, booking the color of your Maserati, choosing which sky will you hang-glide, and so on. The wish list can be realized simply by using Copy Trade.
You don't even need to care whose winning it is, the bull's or the bear's. You can just subscribe to JohnPaul77's Signal in our Copy Trade Launch (we need a name here, any idea?) and start printing the money. As our tribute to "21" Blackjack Movie that inspired our trading method, which is "counting probability", our subscription fee is now start from US$ 21.
Our community is our safe haven, that's why we ask you cowboys to be a part of our utopia. The trademark of nobody wins in forex soon will be reversed, we got a winner here, Johnpaul77 and soon, there will be more of you. Let the Traders Family be a bigger family than now.
Hard Rock comp me a suite. Still from Sierra in 21 Blackjack Movie.
So, are You ready for a compliment Suite in Hard Rock Vegas? lol.
Special Thanks for Copy Trade Launch:
EricB a.k.a ErocFX
The one who introduced and recommend us to use this system.
Simpletrader's Team
Thanks for supporting us! Your system ROCKS!
Orion77
thanks for volunteering in the bug testing part using his own 6 real accounts in 5 different brokers.